This week we are being interviewed by Liz of Eight Acres Blog about keeping a family cow and dairy goats.  Liz and her husband live in Queensland, Australia with similar interests in sustainable living.  I'm thankful to Liz for this opportunity and invite you to join me on her blog to discuss Getting Started with the Home Dairy. 
Buttercup, our Jersey cow, had a calf last month and we are again enjoying the creamy milk she provides.  After raising and milking Nubian goats for about 15 years, we wouldn't want to be without them on our little homestead.  But 17 months ago we added Buttercup to our home dairy, and it has been interesting to observe differences and similarities between a family dairy cow and goats.  To learn more, join us on Eight Acres for the interview.
Click here to read the interview.
Blessings,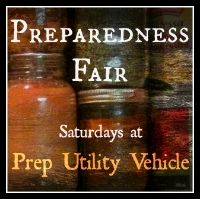 Linked w/Creative Home & Garden Hop, Natural Living Mama, Chicken Chick, Barn Hop, Eco-Kids, Growing Home, Backyard Farming Connection, Down Home Blog Hop, Rock n Share, Frugally Sustainable, Country Homemaker Hop, Homemaking, Wildcrafting Wednesday, Wicked Good Wednesday, Natural Living, Tasty Traditions, HomeAcre Hop, Green Thumb Thursday, Live Renewed, Simple Lives Thur., Old Fashioned Friday, Little House in the Suburbs, From the Farm Blog Fest, Farmgirl Friday, and Simply Natural Saturday.
Other articles you might like:
6 Responses to "Our Home Dairy Cow and Goats"