Several months ago my hubby was inspired by someone else who is downsizing and simplifying.  They had something called a coffee press that made great coffee without electricity.
Since Silver Oak loves a good cup of coffee now and then and we'll soon be off-grid, he got excited and found a great deal on eBay for the perfect little Mr. Coffee coffee press
.
This little gismo is compact and easy to clean.  You simply put your coffee grains into the carafe, add hot water, and place the plunger on top.  First heat your water on the stove or in the microwave (or over the fire or however suits your fancy) and then pour it into the coffee press.  With the plunger lid on, let the coffee brew for three to five minutes, then press the plunger down to trap the ground coffee at the bottom of the carafe.  Pour your coffee and enjoy!
The press we got holds up to 32 oz of coffee (or eight cups), which is larger than some.  It has a permanent stainless steel filter in the plunger which can easily be washed after each use.  Some coffee presses use disposable paper filters, or have the option of purchasing a stainless steel one.  Since our goal is to be more sustainable, we of course chose a permanent filter.
There are benefits to using this little press besides being non-electric and tiny.  Since the coffee is brewed in the water, the natural oils in the coffee are retained which gives it better flavor and health benefits.  In a regular electric coffee maker the oils can't pass through the filter and are lost, not to mention that in a power outage it can't make coffee.
The downside to the press is that you must heat your water first in a separate container.  Then you must drink it fairly quickly after it is done brewing or it will get cold.  But a good remedy for the latter problem is pouring the brewed coffee into an insulated carafe to keep it hot or to store multiple batches for guests.
I've never been fond of coffee.  Mint or any other herbal tea is my thing.  The good news is that the coffee press is perfect for making teas as well, especially using loose leaf teas that need to be filtered.
Speaking of tea, another website dedicated to ideas about tea recently linked to one of my blog posts.  I'm returning the favor and leaving a link for you to check them out as well.  Find them at Tea-Maniac.com.  My post called "Survival Tea" is referenced on their "Think About It" page.
Blessings,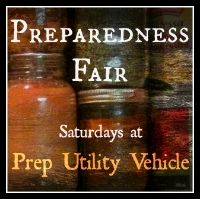 Linked w/Creative HomeAcre Hop, Barn Hop, Natural Living Mama, Chicken Chick, Growing Home, Backyard Farming Connection, Homestead Abundance, Down Home Blog Hop, Frugally Sustainable, Seasonal Celebration, Country Garden Showcase, Country Homemaker Hop, Homemaking, Wildcrafting Wednesday, Natural Living, Tasty Traditions, HomeAcre Hop, Live Renewed, Simple Lives Thur., Little House in the Suburbs, Farm Girl Blog Fest, and Farmgirl Friday.
Other articles you might like:
6 Responses to "Off-Grid Coffee Maker"