If you are a woman I hope you had a great Mother's Day last week, whether you are a biological mother, a mother through love, service, or adoption, or you have children waiting in heaven. I was blessed to grow up with a wonderful godly mother, which is priceless. I'm blessed with a loving mother-in-law and other godly women who have invested in me and in our family. And God has blessed me with six beautiful children here on earth, some through birth and some through adoption, as well as five in heaven. I also enjoy being "mother" to others as opportunities arise; like last week as we cared for two girls for friends of ours. Motherhood is a blessed calling! I hope you don't mind my proudly showing off the children God has given us, in spite of the many years it seemed like multiple children would never be a reality. I am truly a blessed mother!
Now down to the business of what we learned on our recent trip to ECHO about gardening in less-than-ideal situations. In many places around the world people are dependent largely on food they can grow, but they have an extreme climate, poor soil or terrain, limited space or time, physical limitations, or few resources available. ECHO is all about helping individuals around the world learn to maximize their time, space, and available resources to produce the most possible nutritious food with the greatest possible efficiency. Sounds like something we can use!
Obviously water is a major component for growing food. On display were several different models of water pumps made from upcycled or easily obtained materials. One pump uses small scoops tied to a cable strung on two old bycicle wheels. Cranking the pipe handle lowers the cups all the way into the shallow well and brings them back up with water. The water dumps into a pipe running to a transparent inverted water jug so you can see the water flow. It must be cranked enthusiastically or the water runs out of the little cups before it gets to the jug. From there the water fills two 55 gallon drums raised high enough to allow gravity to take the water out to the garden when needed. It is amazing!
Beside that contraption is another treadle-type pump that runs water directly into the garden. This particular garden has little ditches running down the center and around it with gaps at strategic places for water to run into the grow beds. Sandbags are used as "valves" to direct the water flow. How else would you irrigate if you didn't have access to hoses and much plumbing?
Companion planting is utilized in various ways. Here an avocado tree is growing on a mound so torrential summer rains won't "drown" it. The mound is covered with perennial peanut vines which is a nitrogen fixing plant (adds nitrogen to the soil) to feed the tree. The vine also discourages soil erosion.  Too bad it doesn't produce edible peanuts.
A special drip irrigation system is made using a bucket suspended from a tripod. Drip lines run from the bucket and into the garden. Gravity takes water from the bucket to the grow beds. Screen covers the top of the bucket to keep dirt out.
Rooftops may be the only space some people have to garden. Roofs can't generally handle the extra weight of adding much soil so other options are used. Many plants can grow in little soil if they are fed the nutrients they need in other ways. One idea utilizes an inverted bucket filled with water and organic fertilizer. The lid, now at the bottom, has small holes allowing the mixture to escape slowly into the grow bed to feed the plants. Some beds used a little soil and hay, others used cardboard, but my favorite used old carpet (hopefully out-gassed) to wick the water to the plants and hold the moisture. I would have never thought of such a thing for growing food!
Elderly or physically impaired people find gardening difficult, but there are ways around that as well. An entire garden is set up on tables, requiring no bending over. It even has a few rabbits in a hutch to provide natural fertilizer.
As mentioned in my previous post, we learned a lot about growing perennials rather than just the annual vegetables many of us are accustomed to in gardening. Perennials are generally planted once and grow for many years, producing for long periods of time. They require less maintanance in the long run, similar to regular landscaping shrubs. Often they are more nutritious than annual vegetables that must be replanted every growing season. Anyone serious about growing their own food should consider investing time and effort into various edible perennials, such as fruit and nut trees, vines and shrubs, and the types of fodder plants mentioned in my last post. Some take more time initially to start bearing, but have longer lasting results.
For annuals or perennials, most grow beds at ECHO are raised but have no wooden frames. Expensive lumber is not an option for many. It is much easier, less time consuming, and more cost effective to build raised beds or rows simply by mounding the soil and composted additives or layers of organic matter, leaving walkways between.  And of course, this is a no-till method of gardening that does not destroy the living organisms in the soil.  Once the rows are built, they are maintained simply by adding organic matter as necessary between planting seasons.
Mulching is a vital part of healthy growing beds.  A thick layer of mulch such as hay, straw, or wood chips (shredded trees and leaves) is always used in growing applications at ECHO. Mulch protects the soil and beds or rows from erosion, feeds the soil as it breaks down, holds moisture in the soil, protects from extreme temperatures, and keeps weeds from growing.
Soon I'll share some of the simple technologies demonstrated at ECHO built from local or upcycled materials. We're having so much fun out in the yard trying to apply some of the things we learned, it's hard to find time to write posts. I'll try to be back soon!
Blessings,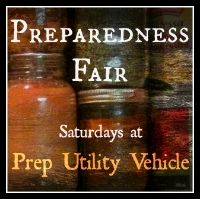 Linked w/Creative HomeAcre Hop, Barn Hop, Natural Living Mama, Chicken Chick, Eco-Kids, Growing Home, Backyard Farming Connection, Homestead Abundance, Down Home Blog Hop, Rock n Share, Frugally Sustainable, Seasonal Celebration, Country Garden Showcase, Country Homemaker Hop, Homemaking, Wildcrafting Wednesday, Wicked Good Wednesday, Natural Living, Tasty Traditions, HomeAcre Hop, Green Thumb Thursday, Live Renewed, Simple Lives Thur., Old Fashioned Friday, Little House in the Suburbs, Farm Fun Friday, From the Farm Blog Fest, Farmgirl Friday, Simply Natural Saturday, Great Blog Chain, and Eat Make Grow.
Other articles you might like:
29 Responses to "ECHO – Alternative Gardening Methods"