As our country faces economic collapse, we search for more efficient and economical ways to feed our family and livestock. Moving to our off-grid homestead has been a major learning experience as we look to become more sustainable and less dependent on the fragile food transport system. We are also increasingly concerned about the growing levels of toxins in purchased foods as GMO farming monopolizes our food sources.
Some countries, like Cuba, have learned from necessity how to grow their own food abundantly and healthfully. We can learn much from them. But there are opportunities to see it demonstrated first-hand without leaving the country. One way is to visit ECHO (Educational Concerns for Hunger Organization) in southwest Florida, dedicated to honoring God through providing sustainable hunger solutions to the world's poor. We may not be considered poor (yet), but we can certainly benefit from what they teach about sustainable agricultural practices in other countries.
Last week we took a field trip to Ft. Myers and visited the Global Farm at ECHO. What an enlightening experience! We also took their Appropriate Technology tour which demonstrates simple technologies made from local or recycled materials that we could learn to make ourselves, such as a PVC water pump, simple rocket stove, homemade solar dehydrator, sand water filtration system, and more. But that is for another post! Now I will attempt to share a bit about their global farm.
Our first stop on the tour was the fish and duck pond, fenced in to keep the ducks in and predators out. A duck house was built over the water so the duck droppings fall into the water to feed the vegetation, which feeds the talapia. The ducks go into the house to eat, drink, lay eggs, and roost at night. The droppings are swept out of holes in the floor.
Next were the rice paddies. They are experimenting and training students to grow rice using the SRI method (System of Rice Intensification) which increases productivity of rice over traditional methods. They are using several methods and comparing the results.
Of great interest to us were the raised rows of perennial fodder crops (mostly trees and shrubs) to feed their goats, chickens, and rabbits. In return the livestock provide meat, milk, eggs, and manure fertilizer for the garden. The fodder crops used are usually fast growing, nutrient dense, and easy to grow. They are grown on wide raised rows and pruned to a height for easy regular harvesting. Our favorites were moringa, mulberry, chaya, leucaena, and comfrey.
Moringa trees deserve a post all their own, as we have been growing two since last fall and are already reaping benefits. Its leaves are a green super food, containing seven times the vitamin C of oranges, and twice the protein in milk. It is very fast growing, but can be maintained at a manageable height. We recently planted seeds in pots. Now I can't wait to plant them out.
We have a small mulberry tree in a pot, waiting to be planted near the chicken yard so the chickens can eat the berries that drop. But at ECHO we saw how to plant a hedge of mulberry trees (bushes) and harvest the new growth regularly as fodder for the livestock.
Chaya is another very productive bushy tree also called the spinach tree. Its leaves can be cooked and eaten like spinach. Raw they are toxic to humans but not to livestock.
Leucaena is a nitrogen fixing legume that makes excellent livestock fodder. A reader of this blog kindly sent me some seeds (thanks, Kathy!), and I hope to plant them this week!
I knew comfrey as a bone-knitting herb that heals wounds and injuries quickly, but didn't know it was also beneficial as animal feed. I have seeds for this as well, but am taking my time to plan where it should grow permanently as it is nearly impossible to eradicate from an area once established.
There were other perennials we brought home (or we already had) because they produce salad greens or other edibles year round, year after year, especially in a warm climate like ours. Here is a list of them:
Cranberry Hibiscus – A burgundy-colored bush with fruity-tasting tender shoots and leaves. Our tour guide invited us to try it, and the children had a hard time stopping. Farmer Boy (seven yrs old) especially took a liking to it. It also grows pretty edible flowers.
Katuk – A shrub whose leaves, flowers, and small fruits are tasty in a salad or cooked. The flavor reminds us of peas or almonds.
Edible Hibiscus – This fast growing bush grows tall and produces large leaves used like lettuce, large enough to cover a piece of bread in a sandwich.
Sweet Potato – We brought home two of their varieties, and can't wait to see how they produce.
Barbados (Acerola) Cherry – Grows little tangy and mildly sweet fruits that contain an adult daily dose of vitamin C in each berry. Imagine growing our own vitamin C "pills!"
Malabar Spinach (red) – A fast growing and productive succulent vine. Not a true spinach, its pretty red and green leaves have a mild flavor.
Okinawa "Purple" Spinach – Also not a real spinach but a pretty purple and green plant tasting much like it (I think it's better). We've had this growing in a protected area of our backyard since last fall, and it is an attractive and meaty addition to salads.
Perennials take less time and work than annual vegetables, and often they contain more nutrients. On our new homestead we're focusing first on getting these longer lasting and higher producing plants established in our edible landscaping, after which we will turn our attention to the annuals. As time goes on I hope to report on how well these plants produce for our family.
In another post I will share some alternative methods of gardening and irrigating demonstrated at ECHO.
Blessings,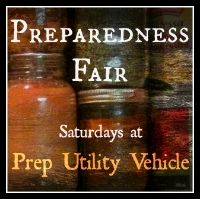 Linked w/Creative HomeAcre Hop, Barn Hop, Natural Living Mama, Chicken Chick, Eco-Kids, Growing Home, Backyard Farming Connection, Homestead Abundance, Down Home Blog Hop, Rock n Share, Frugally Sustainable, Seasonal Celebration, Country Garden Showcase, Country Homemaker Hop, Homemaking, Wildcrafting Wednesday, Wicked Good Wednesday, Natural Living, Tasty Traditions, HomeAcre Hop, Green Thumb Thursday, Live Renewed, Simple Lives Thur., Old Fashioned Friday, Little House in the Suburbs, Farm Fun Friday, From the Farm Blog Fest, Farmgirl Friday, Simply Natural Saturday, Great Blog Chain, and Eat Make Grow.
Other articles you might like:
31 Responses to "ECHO – Growing Massive Amounts of Food the Fast Way"