It has been a long time since I wrote an update about what is going on around our homestead. The truth is we have been so busy redoing fences and putting up new ones; making new grow beds; planting perennials, trees, and some annuals; enclosing our deck with screen to keep the yellow flies from biting us; moving our huge rainwater tank into place; and other projects. I've found it hard to keep up with the blog. I do hope to have a post with pictures to show our progress very soon.
I promised to share some of the simple technologies we learned on our recent trip to ECHO; things which can benefit anyone wanting to live more sustainably or independently. The more we learn now about simple ways of making things work with common materials, the more ready we are for unexpected interruptions in our current lifestyle. First I'll touch on cooking without modern conveniences.
Have you ever thought of making an oven from 55 gallon drums? Here is one made from two steel drums, one inside the other, lying on their sides on concrete blocks. The outer drum is cut open and the ends cut off to create a shell around the inner drum with air space between. The ends are sealed shut with a mud mix of some kind. Heat from the fire below enters the space between the two drums and circulates around the inner one, providing very even heat. Smoke escapes through the chimney coming out of the top of the outer drum. A fire is built under the oven in the back. Sand inside the oven under the baking rack is an insulator and heat retainer.
With this oven you can bake much like with a conventional oven, with high even heat and no smoke or fire in the baking chamber. I'm quite sure with a little creativity it could also be made to look pleasing as well.
I'm afraid I can't explain the next one very well, but cow manure is used to make methane gas using three plastic 55 gallon drums and some other easily obtainable materials. After fermenting in these barrels, the end product is fuel for a cooking stove. How cool is that?
You may remember the rocket stove we built earlier this year. ECHO demonstrates many applications of rocket stove technology. Rocket stoves are fuel-efficient, wood-burning cook stoves, designed to efficiently burn small pieces of wood. They are easily built using available, low cost materials such as metal containers, stovepipes, clay tiles, fire brick, or other resources. The short, insulated chimney becomes a stove top for cooking. The "elbow" shape of the stove and a metal "skirt" around the cooking pot contribute to its efficiency. With this technology it is even possible to make an oven.
Water filters can also be made from readily available materials such as sand and buckets or trash cans. One filter they demostrate is called a Sawyer filter made with purchased lifetime hollow fiber filters. It removes bacteria, viruses, protozoa, and down to .02 micron-sized particles.
A very simple way to disinfect water is by exposing it to sunlight in a bottle for six hours. Solar radiation and increased water temperature destroy pathogens. SODIS stands for Solar Disinfection for Water. I'd use glass bottles to avoid toxins leached from plastic.
Many more things were demonstrated. Homemade solar ovens and dehydrators, handmade garden tools made from material scraps, simple moisture-checking techniques, homemade grain silo, PVC water pumps, rainwater catchment systems, and pedal-powered or treadle-powered equipment are just a few more things we saw. It was enough to make one's head spin.
One of my favorite little things was a solar liter light, made from a two liter bottle filled with water and a bit of chlorine to magnify the sun's rays. Installed in a roof to catch the sun's rays it produces the equivelant of a 50 watt lightbulb. In a dark shed or room needing light when the sun is shining, it may be an valuable option some day!
I didn't even mention all the uses we saw for bamboo. It's amazing how many creative things can be done with it, such as conveying water and making carts, buildings, trellises, fencing, lattice, and so much more. We started a few varieties from shoots we harvested at some of Silver Oak's customers' houses, and we can't wait to use them some day. A clump of bamboo cools the air passing through it, so we want it growing near our windows. But that is for another post!
Blessings,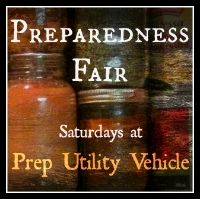 Linked w/Creative HomeAcre Hop, Barn Hop, Natural Living Mama, Chicken Chick, Eco-Kids, Growing Home, Backyard Farming Connection, Homestead Abundance, Down Home Blog Hop, Rock n Share, Frugally Sustainable, Seasonal Celebration, Country Garden Showcase, Country Homemaker Hop, Homemaking, Wildcrafting Wednesday, Wicked Good Wednesday, Natural Living, Tasty Traditions, HomeAcre Hop, Green Thumb Thursday, Live Renewed, Simple Lives Thur., Old Fashioned Friday, Little House in the Suburbs, Farm Fun Friday, From the Farm Blog Fest, Farmgirl Friday, Simply Natural Saturday, Great Blog Chain, and Eat Make Grow.
Other articles you might like:
28 Responses to "DIY Technologies Using Local and Recycled Materials"