We've had a preparedness mindset for a number of years now, working toward becoming sustainable and relearning basic life skills lost to our generation.  We educate our children to prepare them for life…a life that will likely be different than the way we grew up.  But no matter how long or hard we prepare, the reality is this: one disaster could wipe out our preparations overnight.  Then what?
It takes lots of time, energy and money to store enough supplies, learn basic skills, and become sustainable enough to meet the needs of our family in a time of trouble.  What happens if we improve our lives or survive a few more years, only to die of sickness or be killed in a disaster?  Seriously!  Inevitably we WILL face THE END! 
Will a stash of food and supplies matter when we die?  One split second…and we're done.  
While lack of finances may slow us down in preparing, it doesn't cost one cent to prepare to die and meet God.  
We may get overwhelmed trying to learn sustainable living.  Preparing for eternity is not about learning skills, but rather about recognizing and responding to God's voice.  
No matter how we plan, our stash and resources can be plundered or destroyed.  Our best efforts to protect our family can "go up in smoke" within minutes.  What then?  
"Truly in vain is salvation hoped for from the hills, and from the multitude of mountains: Truly in the LORD our God is the salvation…"  (Jeremiah 3:23)
How do we solve this very real dilemma of being absolutely prepared? 
Who but God, our Creator, holds the answer for a secure future?  Who is religious or enlightened enough to have knowledge or wisdom exceeding God's?  I don't trust my own ideas and hopefully you aren't trusting yours.  Our ideas hold too much room for human error and reasoning.  It's imperative that this question be answered by God Himself. 
According to Him we can do nothing to earn His favor or heaven as our eternal destiny.  Breaking the least of His commandments renders us unworthy to be in His presence!  Ever told a white lie, disobeyed your parents, spoken His name irreverently? No matter how good we are, it's not enough for a perfect and holy God (Titus 3:5;  James 2:10; Romans 3:10, 23). 
God says the only way to secure our eternal destiny with Him is to accept His FREE GIFT of Salvation through His Son Jesus Christ.  Religion is not the answer, but a Person, Jesus.  Jesus confirmed this when He said, "I am the Way, the Truth, and the Life.  No man cometh to the Father but by me."  What?  Jesus was a very good teacher, but how can He claim to be the ONLY WAY?  And how can a PERSON be a "way?"  What about all the good religions to choose from? (Romans 6:23; John 3:36; John 14:6)
One thing is for sure: if Jesus lied, He is far from being good.  If His claim to be the sacrificed and resurrected Son of God is NOT true, then He was a huge hypocrite and liar.  Hypocrites and liars are not good, and have nothing to offer us.   
If what He said IS true, however, we have answers concerning our future, and it is worth giving up everything else, if necessary, to obtain His free offer of eternal life, received by simply trusting in Him.  This is far from being a religion, from just living a good life…it is a relationship, alive and real.  (Acts 16:31; Romans 10:9, 13)
It is because of this relationship that I have peace that if I die today my eternal destiny is secure.  
I want my children to live with that security.  
I want you to live with that security.  
Jesus wants you to live with that security.  He has paid the price for our sins which alienated us from God, and taken that burden upon Himself so we can experience peace with God and live in His presence forever.  (John 3:16)
Before you learn more skills, store more food, or become more sustainable, secure the most important aspect of preparedness.  Our stash can be plundered or destroyed, our minds and bodies wounded or killed, but nothing can take our relationship with God and our eternal destiny.  (Romans 8:35)
In Him we are SAFE forever!  Read God's Manual (the Bible) and see for yourself.  The answers are all there. 
I pray you will face the unkown future…PREPARED!
Blessings,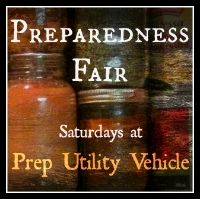 Linked w/Creative HomeAcre Hop, Barn Hop, Natural Living Mama, Chicken Chick, Growing Home, Backyard Farming Connection, Homestead Abundance, Down Home Blog Hop, Frugally Sustainable, Seasonal Celebration, Country Garden Showcase, Country Homemaker Hop, Homemaking, Wildcrafting Wednesday, Natural Living, Tasty Traditions, HomeAcre Hop, Live Renewed, Simple Lives Thur., Little House in the Suburbs, Farm Girl Blog Fest, and Farmgirl Friday.
Other articles you might like:
18 Responses to "Absolute Preparedness"